We know you have had some questions since we shared the Microsoft NCE update and MSP information over the last two weeks. So today, we wanted to break down the different scenarios that you might be facing to clarify what the next 12 months look like for you and Colton Computers.
The evolution of CCT services
By now, you have most likely heard the exciting news; Colton Computer Technologies is transitioning towards focusing entirely on being a Managed Service Provider. This shift means that we will no longer offer one-off support when something goes wrong. Instead, clients will each pay a monthly subscription fee for the agreed proactive services – whether that is a Managed Business plan, Managed Hosting, or Managed DNS.
Wondering why? Check out this video we shared last week to find out why we think Managed Service agreements are mutually beneficial and work for any business, no matter the size.
Managed Services customers with O365 licensing
A lot of you are already on a managed service agreement with us. If we haven't already, we'll be transitioning you to our new standardised plans, Managed Cloud, Managed Business and Managed Business Platinum.
The service we are offering you will not change, but the Microsoft NCE changes will affect you. We talked about that here. We'll work with you to lock in your current price structure for the next 12 months, after which the price increase below will apply. These changes also mean you will be unable to reduce your number of licenses within the subscription period (whether that is one month or one year).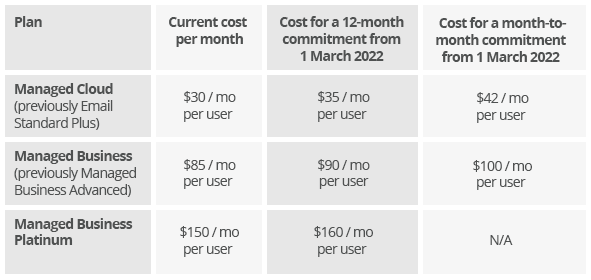 Licensing-only customers on a month-to-month billing structure
If you only get software licensing from Colton, this change will impact you. Going forward, you have two options:
You can come on board as a Managed Service client with the services that suit your needs. If you are interested in hearing more about these options, get in touch via sales@coltoncomputers.com.au by 31 May 2022.
If you don't think Managed Services is for you, we want to give you some breathing space to figure out your options. You can continue on a month-to-month plan until the end of the financial year. If we don't hear from you by 31 May 2022, we will assume that are taking up a license-only agreement with an alternative supplier from 1 July 2022.
With both options above, we will keep the pricing at the current level until the end of the financial year.
Licensing-only customers who have pre-paid for 12 months
What about if you prepaid for your O365 pricing for 12 months with Colton Computer Technologies? In that case, you will need to decide whether to switch to a Managed Services agreement at the end of the 12-month period, or whether to find another license-only provider.
If the prepaid period ends between now and 31 May 2022, we can offer you month-to-month licensing until the end of the financial year while you decide between Option 1 and 2, as detailed above.
We know there's a lot of information to take in, but hopefully this breakdown helps you to work through what it looks like for your business!